Jameel Noori Nastaleeq Regular
Jameel Noori Nastaleeq Regular is a Regular TrueType Font. It has been downloaded 1821584 times. 2221 users have given the font a rating of 3.75 out of 5. You can find more information about Jameel Noori Nastaleeq Regular and it's character map in the sections below. Please verify that you're a human to download the font for free.
Download Font
By downloading the Font, You agree to our [Terms and Conditions](/terms-and-conditions).
Nastaliq is among the most liquid calligraphy styles for the Arabic substance. It has short verticals with no serifs and long level strokes. It is made using somewhat out of cut reed with a tip of 5–10 mm (0.2–0.4 in), called qalam ('pen', Arabic and Persian قلم) and carbon ink, named si ahi. The nib of a qalam can be a piece of the inside to empower ink absorption.
Two types of Nastaliq boards are Chalipa and Siyah squash. A Chalipa board, for the most part, contains four corners to corner hemistichs (half-lines) of the stanza, clearly inferring a decent, good, or exquisite thought. Siyah Mashq ("dull drill") sheets, nevertheless pass on through piece and structure, instead of substance. In Siyah Mashq, reiterating a few letters or words (at times even one) in every practical sense inks the whole board. The substance is accordingly of less vitality and not evidently open.
Font Information
Font Name

Jameel Noori Nastaleeq Regular

Font Style

Regular

Font Type

TrueType

Font Embedding

Installable

Font Tags

Jameel,Noori,Nastaleeq,Regular

Number of Glyphs

None

Font File Size

6.8 MB

Total Downloads

1821584

Font Rating

★★★★★
Character Map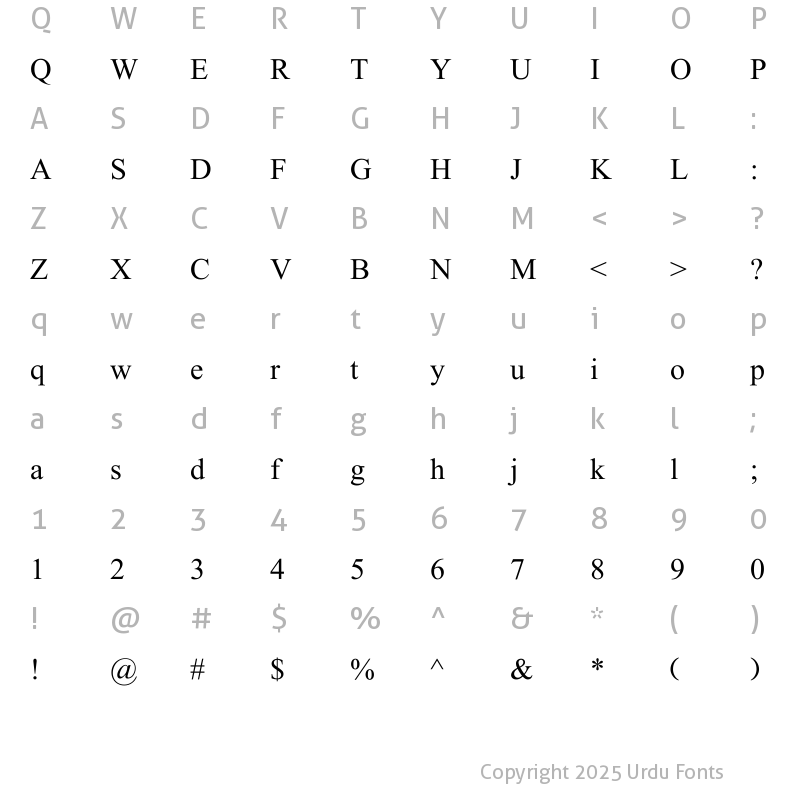 Sponsored Links